We recognise that preparing for the birth of your baby takes a lot of thought and planning, especially if this is your first baby. Our team of inhouse expert midwives have written a mix of FREE downloadable guides and printable checklists to help you prepare for birth from perineal massage, to understanding pain relief options for when you are in labour so you can make the right choices, to preparing your hospital bag and becoming a new mum.
Download your FREE Perineal Massage guide
Let's be honest... perineal massage is not easy, but preparing your perineum will stretch those muscles and give you the best chance of having a better birth experience.
Start perineal massage at week 34 of pregnancy
Find a perineal massage oil, specially blended and designed for perineal massage or an oil such as almond oil.
Make time to do this 3 or 4 times a week
If you struggle to do this yourself, you can ask your partner to help. Download your guide.
You may also find our 2 minute step by step animation useful too.
Download your FREE Pain Relief guide
This FREE downloadable mini guide is written by our expert midwife Karen McEwen, formatted to be read easily on your mobile, covering the many types of pain relief that is available to help you understand the difference between non-pharmalogical and pharmalogical pain relief, so you can feel empowered to make the right choices for yourself when you're in labour.
Download your FREE Hospital Bag guide
Preparing for the birth of your baby, especially your first, can be a confusing time. With so many different products on the market it's difficult to, know what you really need. So Lesley Gilchrist Co-Founder and Registered Midwife has put together her 'expert hospital bag hacks'. This FREE downloadable mini guide is formatted to be read easily on your mobile
Download your FREE print friendly hospital bag checklist
Ideally your hospital bag should be packed and ready to go before 37 weeks of pregnancy. Our midwives have pulled together this handy checklist to ensure you don't miss anything last minute.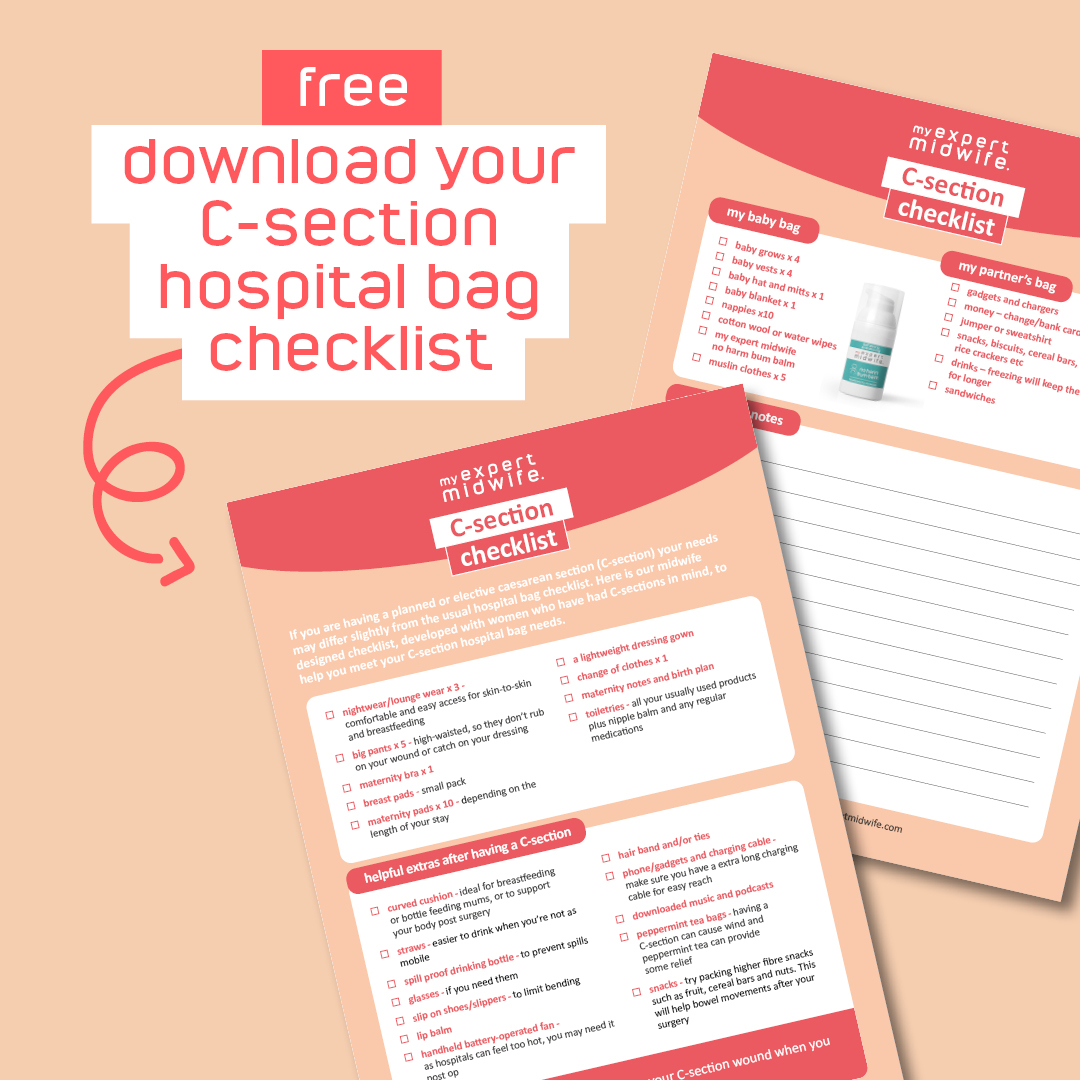 If you are having a planned or elective caesarean section (C-section) your needs may differ slightly from the usual hospital bag checklist. Here is our midwife designed checklist, developed with women who have had C-sections in mind, to help you meet your C-section hospital bag needs. Download here.
Download your FREE new mum checklist here
Looking after yourself postpartum will promote the recovery process. Our FREE new mum checklist gives you tips on how to prepare for your recovery, advice on building time for yourself into your routine and essentials to support your recovery.
This FREE downloadable mini guide covers your breast milk journey from your first milk and how to hand express colostrum to transitional and mature milk. It also provides top tips for breastfeeding. This FREE downloadable mini guide is formatted to be read easily on your mobile.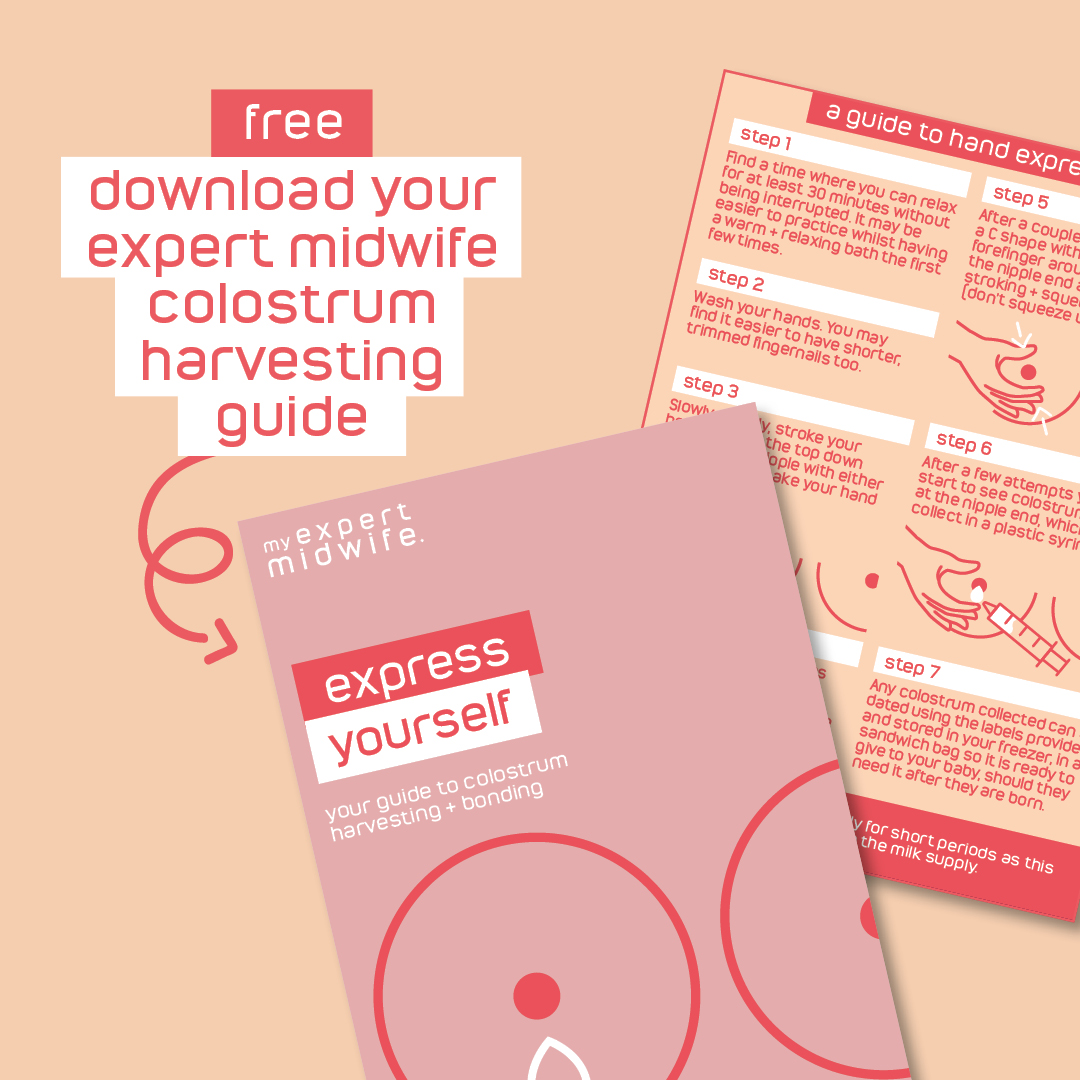 Our FREE colostrum harvesting guide will take you through the benefits of colostrum harvesting how to do it so you can feel prepared for your newborns arrival.
*If you have cervical stitch or have been diagnosed with a low lying placenta/placenta praevia please consult with your midwife or doctor before starting colostrum harvesting.
Learn more with our expert blogs